FREE CHEATS, HINTS, TRICKS, HELP AND PLAYING TIPS
WELCOME TO THE MOST POPULAR TETRIS BATTLE HELP PAGE ON THE NET
We have helped 100,000's of Tetris Battle players already and we're proud to be helping you today!
On this page you will hopefully find all the help and information you need to beat/master this game. This Tetris Battle page includes a number of cheats, tricks and quite a few hints and tips to help you master the game. If you can't find the
information you require then you can always make a
REQUEST
. Good Luck and pop back soon for the latest Tetris Battle updates, Tetris Battle cheats and Tetris Battle video help on the Facebook platform!
FREE TETRIS CASH HINTS!
How to earn free Tetris Cash: There's a number of ways you can get Tetris Cash without buying FB Credits.
Earn free Tetris Cash: Method One: It is recommended that you play the game on a daily basis. Every day you login you have a chance to win Tetris Cash via the Daily Lottery.
Earn free Tetris Cash: Method Two: The more you play the more experience you wil aquire. Every time you earn enough experience to level up, you will also gain one free Tetris Cash as a level reward!
Earn free Tetris Cash: Method Three: You can earn Facebook FB credits! Simply click on the "Earn Credits" tab and find one of the many options available that suits you best.
S
TYLES: TETRIS, T-SPIN AND COMBOS HINTS, TRICKS AND TIPS
The following hints, tricks and playing tips are for advanced players and cover Tetris, T-Spin and Combos on Tetris Battle.
The Tetris Style hints and tips: The Solid line system in Tetris rewards clearing more than one line at a time. Clearing three lines is worth more than clearing two. So clearing four lines at a time, known as getting a Tetris, is worth a tremendous amount of Solid lines, and is one of the most important strategic concepts to know. Leave a one-square-wide gap on the side of the Matrix to prepare for a Tetris. Build up Tetriminos on the opposite side of the gap to avoid blocking the gap. Don't drop the I-Tetrimino into the gap until you have at least four complete lines built up in your stack.
The T-Spin Style hints and tips: To perform a T-Spin, you must first create a T-Tetrimino-shaped hole in the Matrix (called a T-Slot) with one extra block hanging over one side of it. As the T-Tetrimino falls, turn it so that it is upright and so the cross of the T faces away from the overhanging block above the T-Slot. As the Tetrimino comes to rest inside the T-Slot, turn it toward the open space under the block.
The Combo Style hints and tips: You can send a barrage of Solid Lines with Combos by performing simple line clears with every consecutive Tetrimino that falls. For every Tetrimino that drops that creates a Line Clear, you'll send additional bonus Solid Lines.
It's best to set up a Combo a couple rows from one side, such as with the third and fourth or seventh and eight columns. Stack Tetriminos neatly to each side as high as you can. When you can't go any higher, start dropping Tetriminos into the gap. Because every Tetrimino is at least two squares wide except for the I-Tetrimino, you'll clear a line with every drop. Don't worry about packing in the Tetriminos into the gap-open spaces are just opportunities for longer combo chains.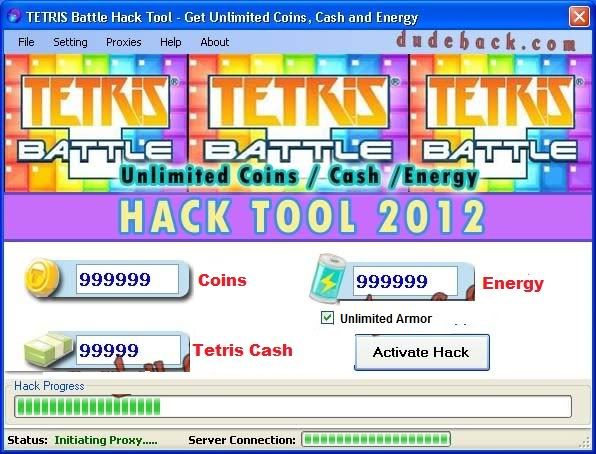 Please Like first before downloading Thanks!
Tetris Battle Hacks and Cheat Tool Features:
Generate Unlimited Coins

Generate Cash -Unlimited

Have Unlimited Energy

Stable Proxy Support

Works on All Browsers

No confidential information needed to activate the hack

and Absolutely Free
Technical Specifications:
Auto connect to account, you don't have to provide any email address for it to work, which is also safe for you.

Proxies are harvested and provided by the tool almost instantly to keep you anonymous.

Easy and pre-configured built-in script for the tool.
Proof that this
Tetris Battle cheat
is
working
: